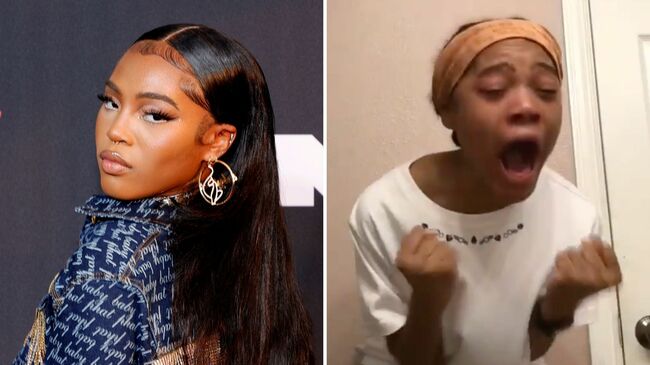 Black people have been the subject of several popular memes online. From reacting to incredulous behavior and events to being downright relatable in the modern-day world, these images and gifs have left behind a legacy online and continue to be used today. Plus, they're just straight-up funny.
Rarely do some people peel back the layers and look at the origins and the face behind the meme. Here are the Black women who were catapulted into viral fame and what they did after they became a permanent part of internet history.
Kalin Elisa, Squat-and-Squint Meme
Origin: This meme came from an outtake of Kalin Elisa's Instagram photoshoot ahead of her friend's baby shower in March 2018. Since then, internet users have used it to react to something unbelievable. She's also been called "Squat Bae" online.
Where they are now: Elisa revealed in a 2019 interview with VoyageATL that she was unemployed at the time her pic took off. Her online popularity led to some job offers, and she eventually started an event planning company called K. Elisa Consulting + Events. Elisa is also the founder of Susie's House, an Atlanta-based nonprofit dedicated to fighting homelessness.
Jasmine Masters, "And I Oop!" Meme
Origin: This infamous moment came from a 2015 rant video by Jasmine Masters, a former contestant on RuPaul's Drag Race. While discussing her frustration with friends getting too drunk, Masters suddenly stopped herself and uttered, "And I oop!" She then explains that she hit a very sensitive area. Many posters have used the image and the gif to express their unexpected surprise at something.
Where they are now: Masters has racked up an online fanbase since her viral moment took off. The gif alone got over 400 million views on GIPHY, and was the most viewed gif in 2019, according to Dazed. Masters even took to Instagram to show off the impressive trophy they got from GIPHY over the achievement. Glancing at her Instagram page, it seems she continues to do drag performances. The drag queen is also on TikTok and continues to be active on YouTube.
Quen Blackwell, Screaming Meme and "Explaining To My Mom" Meme
Origin: This Black woman was the subject of not one, but two popular memes. One is a screenshot of Quen Blackwell screaming from a 2018 Twitter video, which has over 5.6 million views. Posters like to use it to communicate something tragic happening.
Another one is an image of Blackwell next to a picture of Ms. Juicy from Little Women: Atlanta in bed. Typically, the meme expresses someone explaining something niche or interesting to them to someone who has no idea what they're talking about.
Where they are now: Blackwell is currently a social media sensation, having millions of followers across Instagram, Twitter and TikTok. She's been on the internet since 2013 since her days on Vine and continues to entertain her audience with her special brand of beauty, comedy and unabashed realness.
Kimberly "Sweet Brown" Wilkins, "Ain't Nobody Got Time For That"
Origin: Kimberly Wilkins, known as "Sweet Brown," is an important part of internet history. In 2012, the Oklahoma City resident did an interview local news station KFOR after she escaped a terrifying apartment fire. It was during this broadcast that Sweet Brown uttered her viral phrase: "Ain't nobody got time for that." The clip took off on YouTube and became the subject of many posts, songs and even a Jimmy Kimmel Live parody.
Where are they now: After becoming a star overnight, Sweet Brown used her viral fame to land gigs from being a local celebrity spokesperson to even being featured in a Madea movie. She's also been involved in a couple high-profile lawsuits over the use of her phrase in some songs, and she even tried to start her own barbecue sauce company, according to Nicki Swift. It's been years since Wilkins was in the public eye, and some sources say she still lives in Oklahoma City. YouTuber wavywebsurf has a video detailing her exploits since her sudden infamy.
Get the latest news 24/7 on The Black Information Network. Listen now on the iHeartRadio app or click HERE to tune in live.
Newsletter Signup
Join our email list to stay connected.